WGS 2009: An evening with wd-50 @ Tippling Club, Dempsey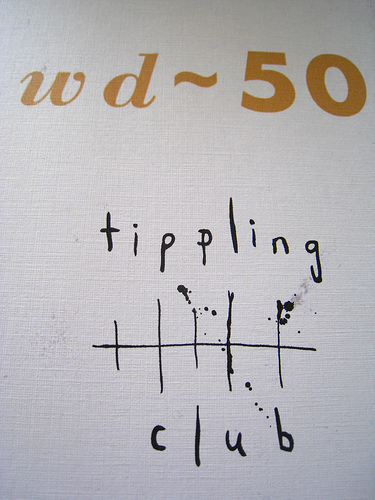 I've always held the notion that I prefer real food to the strange creations that
Molecular Gastronomy
 is known for. All that changed when Nibble & Scribble and I tried Chef Sergio Herman's Degustation Dinner at The Cliff, Sentosa in November 2008. My taste buds and curiosity piqued, I found myself eager to try more of what Molecular Gastronomy has to offer.
When we heard that Chef Wylie Dufresne of wd-50 in New York would be visiting Singapore for the World Gourmet Summit, we decided to sign up for the dinner along with a few other friends. Dinner was priced at S$280++ and required pre-payment. It was a big expense but I was assured by Nibble & Scribble who had eaten at his restaurant in New York that it was definitely a worthwhile experience but we should go with an open mind. Besides we had faith in the crew at the Tippling Club (hosts to wd-50 for WGS 2009).
Dinner commenced with an Amuse Bouche of delectable Duck Tartare served with a caramelised spiced bread crisp. This was my first time eating raw duck but it was delicious with its slightly gamey flavour complemented by the savoury and spiced seasoning. Unfortunately, my pictures didn't turn out too well as it was pretty dark.
Burdendu @ S$25
I like many of the cocktails served at the Tippling Club as they are interesting and tend to be less watered down compared to those served at some bars in Singapore. Wylie and his team were serving a few concoctions that they had created. I started with a glass of Burdendu which consisted of Pomegranate juice, Beetroot juice and orange zest along with a host of other ingredients that I had forgotten. I wish I had remembered to snap a picture of the drinks menu. It was surprisingly very palatable despite the use of beetroot juice, which is touted to be full of antioxidants. I guess the sweet Pomegranate juice helped.
The first course in our 11 course Degustation Menu was an interestingly named dish, Everything Bagel. I had expected it to be a dish comprising a few bagel combos and wondered if it might be too heavy an item to consume at the beginning of the meal. However, this was an evening with the art and science of food and I realised that this dish was a play on the traditional Bagel with Smoked Salmon and Cream Cheese. I love bagels but its hard to find nice ones in Singapore.
The miniature bagel was actually bagel-flavoured ice cream. I loved the rich flavour of the ice cream which reminded me of a warm bagel except this was cold! It was a mind-boggling and thrilling experience. The smoked salmon threads were mildly flavoured and had an airy texture that reminded me of lightly toasted shrimp floss. The crispy cream cheese was just a little too mildly flavoured for my preference but I loved the way the flake of cream cheese melted on the tongue.
After stumbling across this gem of a photo montage that detailed the birth of this dish, I have reached a greater appreciation for the effort and the thought process that went into its creation. What I wouldn't give to experience once again, the sensation of the crisp and firm coat of the bagel ice-cream disintegrating on the warm tongue and giving way to the coolness of the ice-cream that amazingly had the flavour of freshly-baked bagels. This is definitely a Must-Try!
passionfruit, Chinese celery
When the Foie Gras arrived, I was eagerly anticipating more palate pleasing sensations though at the same time a little wary of the convention-defying interpretations that Progressive Cuisine / Molecular Cuisine is known for. We were instructed to cut the cylindrical block of Foie Gras terrine into half to allow the Passionfruit Puree to flow out onto the Chinese Celery Sand (green granules under the Foie Gras).
I love
Foie Gras
, especially Pan-Fried Foie Gras and was curious to discover what Wylie has done with Foie Gras.
The Foie Gras terrine melted on my tongue like a slab of cool butter on a hot grill. It was rich yet almost light in texture. The buttery flavour of the Foie Gras was orgasmic! My party of six was mostly silent with appreciation save for the occasional moan that this had to be one of the best Foie Gras terrines ever. Even one of the girls who is usually not a huge fan of Foie Gras gushed when she told us that this was different and how she loved the rich flavour without any hint of organ meat.
The tart passionfruit puree whetted our palates our appetities and lent an interesting element to the slightly grassy and honey-sweet green granules. I loved the crunch that the Chinese Celery Sand offered, it was like biting into herby-tasting Demerara Sugar. Nice! It's no wonder Wylie has been awarded a Michelin star amongst many other accolades.
If there was one song I could dedicate to the Foie Gras, it would be Kylie Minogue's "Can't Get You Out of my Head". I know where I'm headed if I get the opportunity to visit New York. This is most definitely a MUST-TRY!
3. Scallops
tendon, endive, parsley, hazelnut oil
The next dish was a challenge for me as I'm generally squeamish with innards, so the fact that there were tendons done in 2 styles seemed a little daunting for me. Then again, I was oh so curious to try Wylie's spin on tendons that I set aside my inhibitions and tried both. The blow-torched tendon on top of the scallop was a little gooey but not excessively unpleasant and I thought the slightly charred flavour helped to make it more palatable for me. The crisp, dehydrated tendon was delicious! It looked like dried fish maw but tasted alot like a savoury
keropok
(prawn cracker) although the texture was definitely airier and lighter. It crunched and melted on the tongue like cotton candy (aka fairy floss). The scallops were freshly sweet, succulent and tender.
4. Eggs Benedict
I moved from one challenge to another. I
like to eat eggs that have been cooked to death
because the strong yolk flavour found in most local eggs makes my face turn green. However, I trusted that they would use eggs that weren't locally-produced. I am not dissing the local egg industry but if you compared a half-boiled local egg with a half-boiled US / Australian egg, you'd find that the local eggs tend to have a much stronger yolk flavour and odour. I'm a little more sensitive to the yolky flavour and odour than most people I know.
The gleaming streaks of egg yolk spread atop sprinkled coarse granules of sea salt and ground pepper were certainly not cooked fully but were deliciously fudge-like with salty and spicy accents. The eggs went perfectly with the crispy, paper-thin strips of Canadian Bacon that looked like a dry jerky on the outside but were in fact, fairly juicy when bitten into.
I found the Fried Hollandaise cubes intriguing. The golden brown cubes had been coated with muffin crumbs which lend a fragrance to the rich, thick and creamy Hollandaise sauce. Combining all the components, we marvelled at the balance of flavours and textures in this dish, as with all the dishes we've had so far. The balance of flavours may defy convention in some ways but are nonetheless interestingly pleasant.
Apple of My Eye @ S$25
I wanted to try another cocktail before switching back to water. I ordered another specialty cocktail created by WD-50. It was a very light and refreshing apple-flavoured drink called the Apple of My Eye. It was a fun and fizzy drink and I finished it in no time.
5. Smoked Eel spice bread, black radish, campari
Next was Smoked Eel. I generally don't like to eat eel but Wylie has been able to get me to overcome my gastronomic fears so far, I had to try it. The flesh of the eel was moist and not excessively salty, more importantly, it didn't have the muddy taste that is characteristic of Unagi. The spiced bread crumbs imparted a fragrantly spicy and sweet dimension to the dish, the Campari sauce added a touch of richness while the crunchy black radish slices added a refreshing bite.
6. Lobster Legs brussels sprouts, lily bulb, banana-kimchee
While waiting for this dish to be served, we pondered over the lobster legs as they were really scrawny and nobody we know has ever attempted to eat them. Are we seriously going to eat lobster legs?
When Chef Ryan Clift and crew came by to serve us the dish, he explained that the legs had been placed into a hyperbaric chamber to compress the flesh allowing for easy removal from the shell. A hyperbaric chamber? Sheesh! That's where they stick divers who have the "bends" (decompression sickness). This is serious stuff! After all this effort, I had a newfound respect for the oft discarded lobster legs. The legs were tender and extremely tasty. Perhaps the pressure exerted in the hyperbaric chamber had contributed towards intensifying its flavour, much like how pressure applied onto melon helps to compress the juices and enhance its taste. The banana kimchee was a slightly sweet complement while the fried lily bulbs added a crunchy appeal to the dish.
7. Lamb Belly eggplant, date, smoked feta
The Lamb Belly dish must have been inspired by the Middle East. I love Middle Eastern food and the use of eggplants, dates and feta cheese to complement the lamb belly excited me. The deceptively dry-looking Lamb Belly were juicy when bitten into. The rich flavours of fresh lamb were trapped into the thin strips of lamb belly. The lamb-y flavour was not excessively strong and the strips seemed to melt in the mouth. The savoury flavour of the lamb was tempered by the smoky eggplant puree, the sweet date strips and the tanginess of feta. This is also a
Must-Try
!
8. Wagyu Skirt Steak long bean, tamarind, peanut butter "pasta"
The Wagyu Skirt Steak was very flavourful, a characteristic of this cut of meat. Surprisingly, though this cut of beef is reputed to be tougher than other cuts, it was very tender and a joy to chew on. What stole the show for me though was the peanut butter "pasta" that had an agar-agar like consistency (a firm jelly). The "pasta" was chockful of peanut butter flavour and since I love peanut butter and beef, I was really bowled over by this combination. This is also a
Must-Try
!
9. Vanilla Ice Cream balsamic, raspberry
We were already pretty full when we were done with the beef but were told by Leesa (Chef Ryan's wife and Manager) that we have to try the desserts. The combination of reduced aged balsamic vinegar with raspberry sand was interesting. I love both ingredients and remembered being told in cooking class that when balsamic vinegar is added to berries, it helps to enhance the berriness of the fruits. Unfortunately, I didn't enjoy the roll of Vanilla Ice Cream as it was definitely not flavoured using natural vanilla pods. There was a slight synthetic taste that I didn't like and so I decided to save tummy room for the next 2 desserts.
10. Passionfruit "Tart" sesame, argan oil, meringue
We were told that the Passionfruit "Tart" was to die for. When it arrived, I realised why the word "tart" was written between inverted commas. This dessert looked like a tart but was actually a Tahini (sesame seed paste) based gelatin shell. The "tart" was served in a shallow Argan Oil bath with Black Sesame Gel, browned Meringue and Black Sesame Powder. The Passionfruit flavour was strong and well-accented by the Sesame Gel and Argan Oil. This dessert had us moaning (softly to avoid annoying other diners) and gushing over how good it was. In spite of our very full tummies, we ate everything that was on our plates. This was my first time consuming
Argan Oil
though I am aware of its awesome moisturizing properties as it was explained to me by the good people at The Naturalist in Esplanade Mall. It has an interestingly nutty flavour that is addictive. This dessert is definitely a
MUST-TRY
!
I now understand why this dessert won Pastry Chef Alex Stupak "The Most Innovative Dessert" award in 2008, why he is so highly regarded in his field as one of the Top 10 Dessert Chefs in America (2008) and why he is said to be one of the top dessert chefs in the world.
11. Caramelized Brioche gala apple, sage, brown butter sorbet
The final course. I love butter and caramelized flavours so I actually preferred this dessert to the Passionfruit "Tart". The caramelized crust of the brioche was divine and the rich, nutty flavours of the brown butter sorbet was a perfect companion. The Gala Apple Puree that lined the centre of the plate was delicately tart and helped to refresh the palate between bites of brioche and sorbet. I could barely taste the sage in the foam but it didn't matter as the brioche and sorbet were awesome! This is definitely a
MUST-TRY
!
Latte @ S$10
At the end of the meal, I was totally stuffed and was feeling sleepy. I ordered a cup of Latte to perk myself up a little. The Latte here is not as strong as I would have liked it but as it was pretty late, I suppose a little less caffeine is good. We were amongst the last to leave as we had started late and though we had eaten for close to 4 hours, we had a great time as we were able to enjoy the food and each others company. Thankfully, the next day was a public holiday. :)
wd-50 Chef-Owner Wylie Dufresne
Chef Wylie Dufresne and Pastry Chef Alex Stupak were fairly friendly though I think Wylie is the more sociable of the two. They made their rounds during the meal to check if the diners were fine. I took the opportunity to ask if I could snap their pics. :)
wd-50 Pastry Chef Alex Stupak
Thank you guys for a wonderful meal and for our autographed menus, I don't know when I'll make it to New York but I sure hope
wd-50
returns to Singapore for another visit.
wd-50 50 Clinton Street New York, NY 10002 Phone: +1.212.477.2900 (Line is open Tues - Sun: 11am to 6pm) Online Reservations: http://www.wd-50.com/respop.htmlpowered by Open Table
Operating Hours: Wednesdays to Saturdays: 6pm to 11pm Sundays: 6pm to 10pm Tippling Club 8D Dempsey Road, Singapore 249672 Phone: +65 6475-2217 Email: reservations@tipplingclub.com
Operating Hours: Lunch - Thursdays to Saturdays: 12pm to 2.30pm Dinner - Tuesdays to Saturdays: 6pm to 10pm Bar/Tapas - Tuesdays to Saturdays: 6pm to 12am