Lunch @ The White Rabbit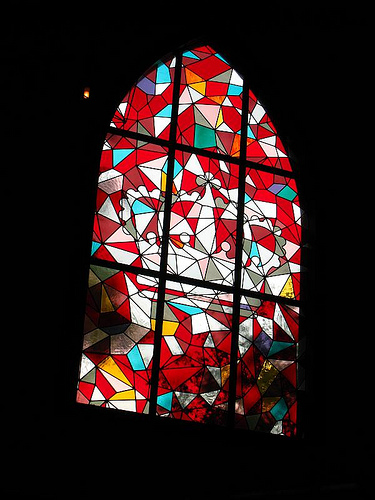 During
my first visit to

The White Rabbit
, I spent most of the evening wondering how the place would look in the day. I loved the white walls, stained glass windows, wrought iron and high ceiling. Here's a picture that I took of a stained glass window when I returned for lunch. Note that the darkened bits of the stained glass window are due to the shadows cast by the trees outside the building.
My lunch companion and I wanted to have a light lunch and since we were both carb freaks, we ordered a soup and a pasta each.
The staff served us bread rolls while we waited for our food. The warm and crusty bread roll was comforting on a slightly rainy day.

Mushroom Cappuccino @ S$14
a light mushroom soup dusted with porcini powder
My lunch buddy had ordered a
Mushroom Cappuccino
which was reasonably good and had its flavour lightly enhanced by the fragrance of porcini powder. We thought that it could do with a slightly stronger mushroom flavour though.

Slightly Spiced Prawn Bisque @ S$16
topped with an aromatic coconut & laksa leaf soufflé
I ordered the
Slightly Spiced Prawn Bisque
which arrived topped with a nicely browned soufflé. The fluffy soufflé top had bits of Laksa Leaf (aka Daun Kesom or Vietnamese Mint) embedded in it and was infused with the flavour of coconut milk. The bisque was not as rich as I would have liked it but it was interesting as it tasted like a thinner form of Laksa Lemak gravy. It even had a
whole hard-boiled quail's egg
in addition to the fresh prawns! Relative to the soufflé top, the soup paled in comparison but on the whole it was an interesting combination.

Scallop Linguine @ S$26
pan seared scallops served with al dente linguine, tossed with garlic, chili & fresh herbs
My lunch buddy ordered the
Scallop Linguine
. I had tried this dish during my first visit and found that it was pretty well-executed though the dish on the whole was a tad bland. My lunch buddy enjoyed the browned, juicy scallops and also commented that the pasta dish could do with just a little more salt.

The White Rabbit Mac & Cheese @ S$28
served with spring vegetables & a scrumptious truffle sauce
I had previously shared a portion of the signature
Mac & Cheese
with my dinner companions. As I was not too hungry, I had taken a little morsel which I felt was very lightly seasoned (seems to be the order of the day here) and I could barely taste the truffles in the dish. I was curious to try the full portion just to see if there were pockets of flavour within the dish that I might have missed on my previous visit.
This was a beautiful rendition of a dish with humble origins. Macaroni and Cheese is a simple casserole that has its place as a popular comfort food in America. Unfortunately, the version here doesn't taste as good as it looks. It may be a jazzed up version complete with truffle sauce and nice plating techniques but in terms of flavour, it lacks the oomph that the humble version offers. I think it could do with a little more cheese and an additional pinch of salt.

Latte @ S$6
On my previous visit, I made a mental note to try the coffee on my return as they seemed to serve a brand that I've not tried before, Giancarlo Coffee. The waitress didn't seem to understand my query when I asked if they served Giancarlo Coffee and gave me an uncertain "yes" response. I decided to try the coffee anyway.
Here's a picture of my aromatic cup of warm latte with a thick layer of milk foam on top and a depression in the middle from where I had poured in some brown sugar. I love thick foams atop my lattes despite the prospect of a foam moustache (the coffee fiend's version of a Got Milk? ad). The latte here is excellent with a full-bodied, rounded flavour that is not overly acidic nor bitter. It is on par with a well-brewed cup of Illy Coffee (wondering if they were serving Illy instead). The Latte here is a
Must-Try
!
The White Rabbit
39C Harding Road
Singapore
Tel: +65 6473 9965
Operating Hours:
Tuesdays to Sundays: 11am - 2.30pm & 6pm - 10.30pm
Closed on Mondays