Morsels (Singapore)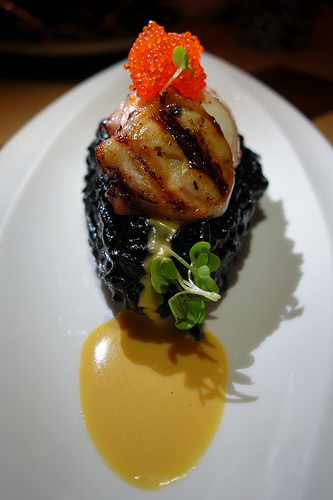 Morsels at Mayo Street has been on my list of places to check out for quite a while so I was thrilled when friends suggested going there for a birthday celebration. I returned to Morsels less than a week later for the launch of Foodmento, a new app for foodies.
Steamed Clams @ S$22
Fig Broth, Homemade Kimchee, Pickled Wakame & Spring Onions 
On my first visit, the first dish I tried was the Steamed Clams in Fig Broth with Homemade Kimchee. Having rushed to dinner after spending the afternoon making a tour of a few hospitals to visit sick relatives, the warm and savoury broth for this dish was comforting. I loved how the slightly sourish flavour of the homemade kimchee and pickled wakame helped to enliven the flavourful fig and clam broth whilst imparting an appetizing tang to the clams. The broth was great when savoured from a spoon and when mopped up with bread. We loved this dish so much, we ordered about 6 portions to share amongst the 12 of us. This is a Must-Try!
Hokkaido Scallop Ceviche, Compressed Plums, Tobiko, Cilantro & Red Onion.
Served with Homemade Tortilla Chips @ S$ 17 / $25
Another popular item on the menu is a succulent Hokkaido Scallop Ceviche with sweet compressed plums and tiny orange pearls of umami-filled Tobiko (Flying Fish Roe). The homemade tortilla chips tasted like a cross between fried Popiah Skin, curry puff pastry and naan - in a great way! Before long we' d polished off all our tortilla chips and had to order an additional portion. This is worth a try for a sweet, fruity spin on traditional ceviche.
Compressed Watermelon Salad with Green Goddess Dressing @ S$13
Homemade Basil Ricotta, Pickled Watermelon Rind & Candied Pumpkin Seeds 
For those who love to have greens, try the compressed watermelon salad. By this time, you're probably wondering what's up with the compression for the watermelon and plum? I recall being told by Chef Ryan Clift of Tippling Club some years back that the application of pressure intensifies the flavours. I love how the compressed fruits take on an almost gel-like consistency and how their flavours are enhanced in the process.
Grilled King Trumpet Mushrooms @ S$ 11
64 Degree Egg, Red Onion Vinaigrette & Gremolata
There are quite a few favourites on the menu like the smoky Grilled King Trumpet Mushrooms that was accompanied with a lovely slow-poached egg that had been cooked at 64 degrees celsius. The egg lent a custardy texture to the dish that was given a crumbly lift by the zesty and tasty Gremolata (chopped herb condiment).
Each chef has their own definition of what makes a perfect slow-poached egg with preferred temperatures ranging from 60 - 67 degrees. 64 degrees is Chef Wylie Dufresne of wd-50's preferred temperature for slow-poached eggs. Dubbed the Egg Man because of his love for eggs, whilst I have yet to try his poached eggs, I was lucky to have tried his spin on Eggs Benedict when he was here in Singapore for WGS in 2009. The yolk of an egg cooked at 64 degrees should have fudge-like consistency with a custard-like consistency for the white. I'm quite a kitchen gadget geek, so I'm really looking forward to getting my Sansaire Sous Vide Circulator next year to slow-poach eggs for a start.
Roasted Pork Belly @ S$ 24*
Tomato Fennel Puree, Lentils, Pickled Fennel & Dijon Vinaigrette. *available only on Fri & Sat or by special request 
Available only on Fridays and Saturdays or by special request, the Roasted Pork Belly is worth the trouble and calories! Featuring a crisp crackling atop tender and tasty flesh, the Dijon Vinaigrette and Pickled Fennel gave the Roasted Pork Belly a tangy touch. I loved the tasty bed of Tomato Fennel Puree and Lentils that lay beneath the juicy pork belly. This is a Must-Try!
Firecracker Pulled Pork Conchiglie Pasta @ S$ 16 / S$ 24
Habanero Pesto, Sour Cream & Spring Onion.
Do you like to eat pork or spicy food? Then definitely leave room for the Firecracker Pulled Pork Conchiglie Pasta! The shell-shaped pastas had been well-coated with the flavourful sauce from the Pulled Pork and given a spicy zing with the fiery Habanero Pesto that had some of my friends sniffling and reaching for water. The burn from the Habanero peppers didn't affect me much because I love spicy food and list Sichuan food as one of my favourite types of cuisine. The dollop of sour cream on top of the Habanero Pesto helped to mitigate the burn from the peppers so I would definitely recommend stirring that into the pesto if you're unable to take the heat. This dish is a Must-Try!
Ume-Sake Braised Beef Short Rib @ S$ 30 / 38
Okinawan Sweet Potato, Nai Bai, Ume & Koji Wasabi
For those who love savoury mains with a touch of sweetness, try the Ume-Sake Braised Beef Short Rib. I love Ume (Japanese Plum) and Ume-Sake so the dish sounded really appealing to me. The Braised Beef Short Rib was fork-tender and had a great balance of flavours (ie. sweet vs salty). The crunchy Nai Bai (baby Bok Choy) added a refreshing burst of vegetable sweetness to the dish. The purple Okinawan Sweet Potato mash was smooth and slightly sweet. As I'm not really into sweet food, I wasn't crazy about the Sweet Potato mash but I loved the burn of the Koji Wasabi that topped the Ume.
The Butcher's Secret @ S$ 28
Grilled Bavette Steak, Onion Jam, Shishitos, Pickled Grapes, Fingerling Potatoes & Chimichurri Sauce.
This dish bears an interesting name, The Butcher's Secret. It was named after the Bavette Steak (Flap Steak), a cut that used to be kept for the butcher's own consumption because though it isn't very tender, it has a rich flavour. The Bavette Steak here was moist and tender with a rich beefy flavour that was given a punch by the spicy Chimichurri Sauce. Served with mildly peppery grilled Shishitos (Japanese peppers), roasted potatoes, a sweet yet smoky onion jam and lightly pickled grapes, the dish has a lovely combination of sweet, salty and sour flavours on a plate.  A Must-Try!
Grilled House Poached Octopus & Squid Ink Risotto @ S$ 25
Salted Egg Sauce, Tobiko & Wasabi Sprouts Additional portion of octopus @ S$ 7
Now for my absolute favourite dish on the menu! A killer combination of umami-rich ingredients, this dish is a Must-Try when you're at Morsels! The octopus had been poached, then grilled to give it a smoky flavour and tender texture. Set atop a flavourful Squid Ink Risotto with creamy and savoury salted egg sauce, tiny salty spheres of Tobiko and delicately spicy Wasabi Sprouts; the marriage of flavours is like a match made in Heaven. I also recommended this dish under Blog Choice in the 27 November 2013 copy of The New Paper.
Homemade Almond Milk Panna Cotta @ S$ 8 / S$ 14
Candied Orange & Port Wine Reduction.
If you still have room for desserts, try the delightfully light but creamy Homemade Almond Milk Panna Cotta. Drizzled with a fruity Port Wine Reduction and topped with some diced candied orange, this dessert is neither too sweet nor too heavy.
Morsels Signature Milo Tira-Miso @ S$ 12 / S$16
If you have a sweet tooth and love Milo, you'll love Morsels' take on Tiramisu. Served in a glass jar, it's called Milo Tira-Miso.
They've replaced cocoa powder with Milo in this dessert, which I found too sweet for my taste although I liked the alcoholic punch that this dessert packs. ;)
Morsels' Kitchen Crew
Morsels is a cosy small plates cafe that serves dishes that reflect culinary influences from diverse cultures. As implied by the cafe's name, portions aren't large here but sharing is highly recommended so you can savour a wide variety of dishes. The dining area is split into 2 sections but my favourite table is right in front of the open kitchen where the action is.
Morsels
35 Mayo Street,  Singapore 208316
Phone: +65 6396 6302
Email: 
hitmeup@morsels.com.sg
Facebook: 
https://www.facebook.com/morselsinsingapore
Operating Hours: 
Tuesday to Thursday: 6 pm to 10 pm Friday & Saturday: 6 pm to 10.30 pm