Latte at La Ristrettos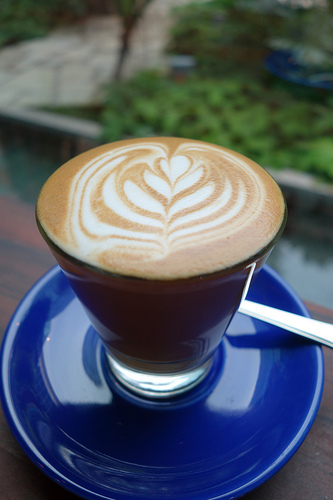 I was a little early for my appointment this morning and so I took the opportunity to grab a quick cup of Latte at La Ristrettos. A friend told me about La Ristrettos last year but I never had the chance to check it out till today.
Latte @ S$5.50
Having only had a few hours sleep the night before (I'm quite an insomniac), the caffeine boost from this cup of latte was a welcome wake-up call for me. The coffee had a slightly bitter taste which I figured was probably because the beans were roasted a little darker than what I've become accustomed to in recent months. Nonetheless, it was a pleasant and robust cuppa joe that was well-balanced with the sweetness of the perfectly-frothed milk. Check out how silky smooth the microfoam (with a Rosetta design) is atop the cup of Latte. This is a Must-Try if you're in the area.
Save for a sign outside the unit, La Ristrettos is otherwise a nondescript cafe nestled amongst specialist clinics on the eighth floor of Novena Medical Centre. Stepping into the cosy cafe from the cold and sterile hallway, La Ristrettos felt like an escape to a homely dining room. It was fairly crowded at 10am on a Saturday morning and it appears as if their breakfasts are fairly popular. I only had 15 minutes to spare so I settled down at a counter seat with a calming view of the rooftop garden which also serves as an al fresco dining area. It felt like a break from the hustle and bustle of daily life as I've been snowed under the past month due to work and stuff happening on the personal front. With quite a few family members falling ill, I found myself running around from one hospital to another on some days. I'm breaking my hiatus today with a short post on the latte that I had this morning, just so you know I'm still alive. *just kidding!*
The folks running this place seem to be really passionate about their craft. I guess I will be back soon to try their breakfast as well.
La Ristrettos
#08-37 Novena Medical Centre,  10 Sinaran Drive,  Singapore 307506
Tel: +65 6397-7165
Operating Hours:
Monday to Friday: 8 am to 6 pm Saturday: 8 am to 1 pm