IKYU Gourmet Traveller - Nov 2013's Seasonal Menu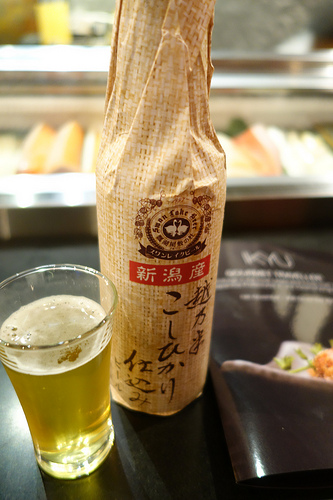 I was invited to a tasting at IKYU last week. We were there to preview IKYU's Gourmet Traveller menu that will only be served from 13 to 30 November 2013 (extended till 15 December 2013 by popular demand). Featuring the best produce from 15 Japanese Prefectures in one menu at IKYU, our tastebuds were taken on a gastronomic journey through the different regions of Japan.
Niigata Beer by Swan Lake Beer
The folks at IKYU do know how to relax diners after a working day. If you're taking the Beverage Pairing option, you'd be welcomed with a cool shot glass of Niigata Beer. Hailing from the same region as Chef Takuma Seki and his choice of rice, Koshihikari, the beer was produced by the Swan Lake Beer company. Apparently the beer needs to be chilled all the time (throughout its transportation as well) and would not be palatable once it has been exposed to heat. I'm no beer aficionado but this beer was rather light and somehow reminded me of the Weissbier that I tried when I was in Munich some years back.
Ibaraki Ankimo (Monk Fish Liver)
We started with a series of Appetizers, known as Zensai in Japanese. Since this is a seasonal menu, IKYU's Chef Takuma Seki, had opted to showcase 3 delicacies (known as Chinmi in Japanese) that are at their prime during this period. We started with a portion of Monk Fish Liver that was served with pickled seaweed and cucumber. I'm squeamish when it comes to organ meat but I had to try at least a little just for the sake of tasting. The texture of the Ankimo was smooth, almost like Foie Gras Pate. However, I felt the "organ meat" flavour was still pretty pronounced even though I was chomping on the pickled vegetables to help kill the taste. That said, Ankimo is a favourite amongst some of my friends who love to eat liver so it's worth a try if you're into that.
Hokkaido Shirako (Cod Fish Sperm)
The second Chinmi on the menu was Hokkaido Shirako (Cod Fish Sperm) served in Ponzu (a citrus, soy and vinegar-based sauce). As far as I was concerned, this was another "Fear Factor" dish so I took a deep breath, popped one piece into my mouth, chewed a little and swallowed! The chunks are fairly large so I had to break up the milt a little, which caused it to release a milky fluid into the tart Ponzu dip. Like Ankimo, even though this is not the first time I've had to eat milt, I have yet to acquire a taste for these two exotic dishes. If you're squeamish like me or simply violently "allergic" to consuming such ingredients, do feel free to let the chef know and he will substitute them with something that suits your palate better.
Fukuoka Mentaiko (Marinated Cod Roe)
Thankfully, the third Chinmi was something that I've acquired a taste for in the past 10 years or so. Having had Mentaiko in various forms such as a paste that seasoned the cheese in a gratin, or as part of a pasta sauce, I've grown to enjoy it. It also helps that I enjoy fish roe such as Ikura (Salmon Roe), Ebiko (Prawn Roe), Tobiko (Flying Fish Roe) and of course, Caviar. The Fukuoka Mentaiko chunk was crunchy with the distinctive slightly spicy and savoury flavour that mentaiko's prized for. This is a Must-Try!
Ichinokura's Suzune Wabi Sparkling Sake 
We were served some sparkling sake to accompany the Chinmi. Fizzling gently, the pale and sweet sparkling sake was a refreshing drink. A much lighter version of Champagne, this drink could possibly convince a teetotaler to have more than a glass or two. The Suzune Wabi Sparkling Sake is a Must-Try!
Sashimi
Kagoshima Maguro (Blue Fin Tuna), Chiba Buri (Five-Ray Yellow Tail) with freshly grated Shizuoka Wasabi & Okinawa Umi (sea grapes).
We then moved onto Sashimi, one of my favourite parts of a Japanese meal. Comprising 2 different kinds of fish, Blue Fin Tuna and Five-Ray Yellow Tail, the fish were rich in flavour with a slight touch of oiliness.
Freshly grated Shizuoka Wasabi
The sashimi was served with freshly grated wasabi from Shizuoka, a Japanese prefecture that's hailed as the birthplace of the green horseradish. It added a lovely zing to the sashimi with a slight hint of sweetness.
Grace Koshu 2011 White Wine
We were served a light and sweet Koshu White Wine to go with the fresh and delicately sweet Sashimi.
Fukui "Live" Echizen Snow Crab
We moved onto the cooked dishes starting with a steamed dish (known as Mushimono) of Fukui "Live" Echizen Snow Crab. The menu features a generous portion (500g) of the revered Echizen Snow Crab. Encased within a fairly thin shell (relative to Sri Lankan Crabs) are succulent and sweet chunks of crab meat with a "clean" flavour. We took about 20 minutes to work through this dish. This was one of the highlights of the meal. A Must-Try!
Junmai (Pure Rice Wine)
The snow crab was paired with Junmai. I'm no expert on Sake or well, any alcoholic drinks for that matter, but I thought this was a fairly light drink that can easily be appreciated even by teetotalers.
Miyazaki Champion Beef served with Kouchi Yuzu Ponzu
Diners are offered a choice of two kinds of meat, Miyazaki Champion Beef or Kagoshima Kurobuta Pork. We were served the beef option. Miyazaki Champion Beef is regarded as the finest beef in Japan after having won several national competitions including the "Wagyu Olympics", for which it is the reigning champion for the second year running. It was served medium-rare with grilled peppers, browned garlic chips and Yuzu Ponzu made using Yuzu (Japanese Citron) from Kouchi Prefecture. The beautifully marbled beef was juicy and seemed to melt on the tongue. The tangy Kouchi Yuzu Ponzu helped to cut the oiliness of the beef, although with oil this tasty, I'm not complaining! The Miyazaki Champion Beef is a Must-Try! We didn't try the Kagoshima Kurobuta Pork dish which features a 400-year old pig breed that's the pride of Kagoshima Prefecture. If you try it, don't forget to leave a comment on how you liked it.
Dai Ginjo 
The beef was paired with Dai Ginjo, a premium quality sake that's just a step beneath the Junmai Dai Ginjo.
Hokkaido Panko Oysters
We were then served 2 Hokkaido Oysters that had been coated with Panko (Japanese-style breadcrumbs) and then deep-fried. They were served on a bed of a creamy sauce that comprises chunks of egg white, onion, Dijon mustard and Japanese mayonnaise. The bits of boiled egg white added a soft chunky texture to the sauce which went really well with the oysters.
Otokoyama Junmai Dai Ginjo
The oysters and the next course were paired with one of the top quality sakes available, Otokoyama Junmai Dai Ginjo. Seemingly the smoothest of the lot, this prize-winning sake was refreshing.
Palate Cleanser: Aomori Apple
After such a flavourful dish, we were served a chunk of Aomori Apple as a palate cleanser. A refreshing change from sorbets.
Kaisen Chirashi Don
Toyama Shiro Ebi (White Shrimps), Hokkaido Uni (Sea Urchin), Ikura (Salmon Roe) & Kagoshima Maguro (Tuna) 
We were then served the first half of the Main Meal (Syokuji), which was my favourite part of the meal! Topped with some of my favourite ingredients such as sweet Hokkaido Uni, bursting with savoury goodness Ikura and flavourful Maguro, I savoured every morsel in the bowl even though I was already starting to feel quite full by the time this dish arrived. If a set meal is too substantial for you, you'd be pleased to know that this is available a la carte!
Served on a thin layer of fragrant Koshihikari Rice from Niigata Prefecture, the Chirashi Don was awesome to the very last grain of rice. IKYU proudly displays two plaques indicating that Miyazaki Beef and Koshihikari Rice are served in the restaurant.
Hot Nara Miwa Somen
The second half of the main meal was a small bowl of Nara Miwa Somen in a flavourful hot dashi broth. Miwa Somen have been produced for over 1,200 years in the Miwa area.
Measuring less than 1 mm thick, the wheat noodles are touted to be the thinnest noodles in the world. Soft, smooth yet with a slight bite to it, the Nara Miwa Somen is also a Must-Try! Served in a warm dashi broth, this dish was especially comforting at the end of a substantial meal.
Niigata Koshijikari Rice Ice Cream with Seasonal Fruits
Dessert was an interesting ice cream that had been made with Koshihikari Rice from Niigata Prefecture that had been blended with milk. The cut fruits were drizzled with raspberry balsamic vinegar to enhance the sweetness. Unfortunately, I was way too full by this point to fully enjoy the dessert.
Fruit Sake
The dessert was paired with a fruit sake that was refreshing and delightfully sweet.
Yamazaki 12 Year Old
Finally, we were offered some Yamazaki 12 year old whisky that I requested to be served neat. Sweet and smooth on the palate, this was the perfect end to a lovely evening.
IKYU's Gourmet Traveller Menu will be served from 13 to 30 November 2013 (extended till 15 December 2013 by popular demand).
Priced at $188++ with a beverage pairing option available for an additional $98++, the set meal features the best seasonal produce from various Japanese prefectures in one sitting. Served during lunch and dinner, call ahead to book as limited portions are reserved per day. 
IKYU
No. 5 Yong Siak Street,  Singapore 168643. Tel: +65 6223 9003 / 9663 2003 Email: ikyu@ikyu.com.sg Website: 
www.ikyu.com.sg
Operating Hours (Tuesdays to Sundays):
11.30am to 3pm (last order @ 2.30pm) & 6pm to 10.30pm (last order @ 10pm) Closed on Mondays   PS: Thank you, IKYU and Bing, for the hospitality.