Fluffy Roti Prata in Tampines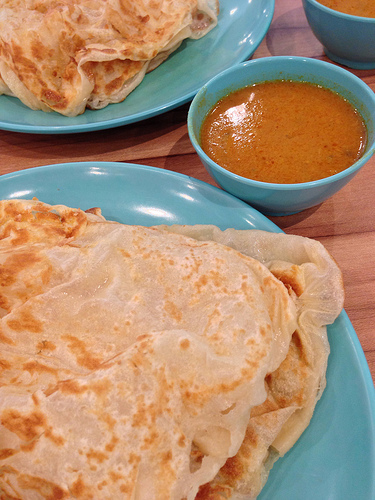 My folks recently introduced me to a hawker stall in Tampines that sold one of the best Roti Pratas I've had for a while. One of my favourite local hawker food that I would crave from time to time. I especially love to eat Roti Prata for breakfast and supper. Before my cycling accident, Roti Prata would be one of my staple supper favourites after a long (ok, sometimes short) ride along the roads of Singapore.
There's usually a long line for the Roti Prata here as they're made to order unlike many other places that make the Roti Prata in advance and warm them up just before serving. Tearing into the crisp, golden brown pieces of Roti Prata, I loved the fluffy and soft folds within that soaked up the Chicken Curry gravy eagerly. So unlike the greasy, flat and sometimes pretty rubbery ones that you sometimes get. The secret lies in the dough and to a large extent, how skilled and diligent the Prata man was in ensuring that the dough's stretched out just right to bring out the fluffiness while refraining from overworking the gluten in the dough such that the prata becomes tough. The Roti Prata here is a Must-Try!
The Prata man looked pretty stern at first but finally cracked into a smile when he realised that I was trying to snap a picture of him as he flipped and twirled the dough while making a prata. How often do you see a Prata man really flipping and twirling the dough these days?
Mumtaz Prata & Briyani
Located within the
Kopitiam food court
at Tampines Mart 5 Tampines Street 32,  Singapore 529284.   * PS: I was in such a hurry that day, I forgot to ask about the operating hours. I suppose visiting during lunch and dinner time would be safe bet.