Celebrity Chef Cooking Class: James Martin - Gastronomic Ruminations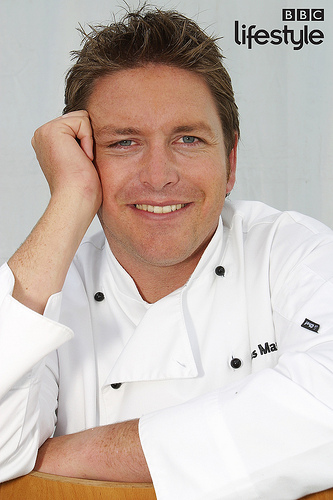 I wonder how contestants on programs such as Celebrity Masterchef manage to churn out such amazing dishes, plated beautifully, under immense time pressure and the watchful eye of judges and cameras? Celebrity Chef James Martin gave a us a taste of what it was like to cook to perfection (well, as close to perfection as possible in our cases) under a tight timeline.
Celebrity Chef James Martin
* image courtesy of BBC Lifestyle
Born in Yorkshire, James started helping out from a very early age in the kitchen at Castle Howard, where his father ran the catering. Thus by the age of 12, he had already cooked for the Queen Mother. After having worked in renowned restaurants in England and France before opening his first restaurant at the age of 21 in 1994, he began his TV career in 1996. He currently runs The Leeds Kitchen restaurant at Alea Leeds Casino in addition to hosting cooking shows, writing cookbooks and reviews amongst other business ventures.
The format of the lesson was simple. James would demo each of the two dishes to us and we would return to our workstations to replicate what we had just seen. The twist was, since he was a professional chef in the kitchen, there would be no recipes to refer to. Oh dear!
Executive Chef Charlotte Disidoro, Palate Sensations
I spent the past 15 years or so playing kitchen voyeur at cooking demonstrations or watching chefs work their magic on TV and at restaurants with open kitchens. Unfortunately, I didn't spend as much time in the kitchen as I should, practising what I learnt. Unaccustomed to cooking at such a fast pace and not having a recipe to refer to...I caved like a collapsed soufflé. I had to ask fellow classmates from time to time if they recalled some of the steps that we had observed during Chef James' demo. Thankfully, there were four roving chefs in class to help us. If it hadn't been for Chef Charlotte and Assistant Chef Joel of Palate Sensations, who essentially saved my posterior a couple of times during class, and the amazing efforts of my teammate, Jeanne, I would pretty much have had nothing to eat for lunch.
Deep-Fried Egg with Crispy Bacon & Mesclun Salad
Honestly, it was quite a pain to parboil the eggs, then peel them ever so gently before coating them in breadcrumbs and lowering them into a deep fryer. However, the soft texture of the egg was a nice contrast to the light crispiness of the deep fried breadcrumbs crust. I momentarily forgot how much I hated the process and would consider making this again...someday. The astringent quality of the sherry vinegar in the salad dressing helped to cut the oil in the salad while the saltiness of the lardons (crispy bacon) helped to counter the bitterness of the leaves.
Chocolate Pudding with Creme Anglaise, Sauteed Bananas & Banana Ice Cream
Unfortunately, I am as talentless in taking pictures as I am in baking or in knife skills so...if you use your imagination really well, the above is actually a picture of a Chocolate Pudding with Creme Anglaise, Sauteed Bananas and Banana Ice Cream. The Chocolate Fondant was rich with the flavour of 70% dark chocolate and awesomely runny in the middle. Thankfully, we unmoulded them on time else they would have wound up being cooked through like what a few of our classmates experienced.
Tune into the BBC Lifestyle Channel (StarHub Ch. 432) to watch Celebrity Chef James Martin in action in "James Martin Digs Deep", "James Martin Feasts" and "Saturday Kitchen".
Thank you BBC Lifestyle and Fulford PR for inviting me to this event. I had lots of fun learning to cook what I would not ordinarily try to make and I hope to use the souvenir apron more often in my kitchen. To my readers who won themselves an apron two years ago, I hope you are enjoying them.