Rediscovering Yoga in Bali
I first started practicing Hatha Yoga in 2001 but stopped after I got busy with other activities like diving, wakeboarding, cooking classes and cycling. Since my cycling accident, I've been trying to find an activity that I can stick to. When Isa, Wellness Liaison from Fivelements, Puri Ahimsa suggested I try out Yoga as part of my Panca Mahabhuta Healing Retreat, I figured "Why not?".
©Nyul | Dreamstime.com - Yoga In Nature Photo
I was nervous about having to use my left arm to support myself for some of the poses. However, after years of limited use, my elbow was getting stiffer so it was long overdue for some workout. Besides, a few friends and I started meditating recently so it seemed like a natural extension to want to start practicing Yoga again. I hope to be able to practice Yoga / Meditation on a beautiful beach some day.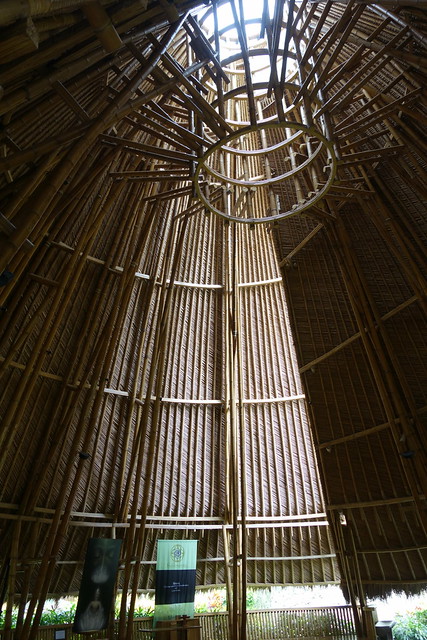 Fivelements is an eco-conscious resort so their buildings are made mostly out of bamboo and leaves. Click here to view an InstaVid that I shot at the largest of the 3 Yoga Studios / Meeting Rooms, the Mandala Agung.
Isa had arranged for Peter Roussel, a Yoga instructor who had over 15 years of teaching experience, to give me lessons. He had just arrived in Bali 10 days before I did, spent the last 8 years teaching in India and travels the world giving Yoga lessons. Peter teaches what he calls 'Full Spectrum Hatha Yoga' which includes Asana Pranayama Meditation. Unfortunately, between all the healing treatments and massages (more on these later), I didn't have time to complete 4 lessons with him so I settled for 3 lessons instead. My morning lessons start at 8 am as it's apparently better to practice on an empty stomach. He was strict in correcting my asanas (yoga poses). I had a tendency to put most of my body weight on the right to avoid causing more injury to my left arm. Somehow sensing that I'm lazy when it comes to working out, he drew a chart for me to practice when I returned to Singapore. Here are some of his parting words which he emailed to me as a reminder: "Twice a week is the base line for continued development in the practice. If you have a daily work routine and have to get up the same time it can be very useful to incorporate a practice session into the morning rituals. Practice can be as little as 15 mins or up to one hour for self practice. This will allow you to enjoy the benefits of the practice for the whole day."
Since returning to Singapore, I've attended 6 Yoga lessons and aspire to attend at least 2 weekly. I guess I will have to learn to be more patient as Peter mentioned that it will take about two years of consistent practice to find myself in a "different place". Thank you, Isa and Peter, for helping me to rediscover Yoga. I'd told Isa that I was hoping to adopt Yoga as a sustainable activity that I could practice at home if I don't have time to go to the gym or head out for a jog.
While I try to make Yoga a habit, here's a cute image of Yoga Cats demonstrating how to do the Sun Salutation. Namaste!
Yoga Lesson Rates (90 Minutes): Private (1 - 2 guests): IDR 900,000++ each (about USD 84 after tax) Group Rate: IDR 350,000++ each (about USD 33 after tax)
3-Night Fivelements Panca Mahabhuta Retreat @ USD2,095++ single occupancy / USD3,375++ double occupancy *prices are quoted in US Dollars and are subject to 21% government tax and service charge.
Package includes:
3 Nights Accommodation in one of the exclusive riverside suites
Gourmet Healing Cuisine Meals (3 breakfast / 2 lunch / 3 dinner / daily 4 glasses of coconut water)
Healing Consultation
Balinese Blessing Ceremony
1 Healing Massage
1 Healing Energy Session
1 Water Healing Session
1 Yoga & Meditation
1 Beauty Ritual
Airport transfers
PS: The Yoga instructors at Fivelements have extensive experience so you should be in good hands. There are quite a few packages to choose from so visit their site to find out more: www.fivelements.org NB: Top-up required for additional yoga sessions / treatments / classes
Fivelements, Puri Ahimsa Banjar Baturning, Mambal, Bali, Indonesia 80352 Email: contact@fivelements.org Phone: +62 361 469 260 / +62 361 469 206 / +62 821 46587975
If you'd like to check out Peter Roussel's upcoming Yoga Retreats, click here: www.byoga.co.uk