Authentic Korean Food Promotion at Hotel InterContinental Singapore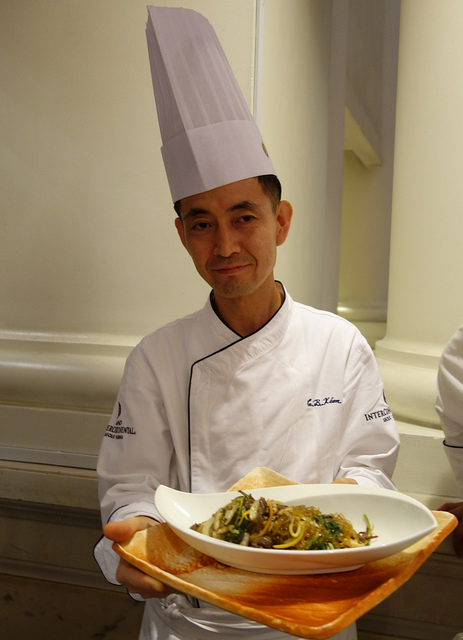 From now till 7 September 2014, a team of Korean chefs from InterContinental Seoul will be presenting signature Korean dishes during dinner at Olive Tree, InterContinental Singapore. This promotion is held in collaboration with Korea Agro-Trade Centre with the aim of creating greater awareness of classic Korean cuisine in Singapore.
Chef Bae Han-chul (Director of Kitchens & Executive Chef - Grand InterContinental Seoul Parnas and InterContinental Seoul COEX) and Chef Eric Neo (Executive Chef - InterContinental Singapore) and their teams are working together to present a spread of delectable Korean delights in addition to the typical buffet spread of chilled seafood and various starters. I was invited to the launch of the promotion last Friday to savour classic Korean dishes with a modern touch. I'll focus on my favourite items on the buffet line in this post. I can never resist Kimchi and Banchan (Korean side dishes). The Kimchi served here was excellent and I loved the pan-fried Zucchini slices too. 
Yukhoe: Korean Beef Tartare
I'd never had Yukhoe before and was really thrilled to try some at Olive Tree's Korean Fiesta dinner buffet. The tender slivers of beef had been well-seasoned with soy sauce, black pepper, sesame oil, minced garlic, sesame seeds, sugar, salt and spring onions. The julienned Bae (Korean pear) added a lovely crunch to the dish with a juicy burst of fruity freshness. The Yukhoe and Kimchi are a Must-Try!
Seo-galbigui: Grilled Marinated Beef Rib
Image reproduced with permission from InterContinental Singapore  
I loved the tender and smoky Seo-Galbigui (grilled marinated beef rib) from the live station. Great when slathered with some Ssamjang (Korean spicy dipping sauce), topped with some sliced raw garlic and wrapped in a lettuce leaf, this is a Must-Try!
Chef Kim Chang Bae of InterContinental Seoul with a plate of Healmul Japchae
Sauteed Potato Starch Noodles with Seafood & Vegetables  
Chef Kim gave us a culinary demonstration on how to cook Healmul Japchae (Korean Sauteed Potato Starch Noodles with Seafood & Vegetables). The team from Seoul will be conducting their last culinary demonstration this Friday evening so check with Olive Tree for more details. Japchae and Samgaetang (Ginseng Chicken Soup) are amongst my favourite Korean dishes. Unfortunately, they weren't serving any Samgaetang that day so enquire ahead on availability to avoid disappointment. The Japchae was tasty and the springy potato starch noodles weren't clumpy. I didn't get a good shot of the deliciously tangy Kimchi Jjigae (Kimchi Pork Stew) but the Kimchi Jjigae and Japchae are worth a try.
Ho Tteok (Korean Pancake stuffed with Brown Sugar)
I'd never had Ho Tteok before but my curiosity was piqued because D was raving about it. I wandered over to a live station next to the dessert display cabinet where two ladies were prepping beautifully browned Korean pancakes. Having a texture that was like a cross between Chinese peanut pancakes (Min Jiang Kueh) and Chinese Spring Onion Pancake, these little crisp babies were stuffed with caramelized brown sugar.  This was so good, I had seconds and flew to Bali for a short retreat with Ho Tteok on my mind! The Ho Tteok is a Must-Try!
Maesiljoo Sour: Korean Plum Wine-based Cocktail
If you love a little tipple, don't miss the Maesiljoo Sour Special Cocktail that was made with a light and refreshingly fruity Korean Plum Wine. Not too strong, the Maesiljoo Sour is a Must-Try!
Korean Fiesta is available till 7 Sep during Olive Tree's dinner buffet from 6 pm to 10 pm (Monday to Friday) and 6.30 pm to 10.30 pm (weekend). Prices are as follows: 
  $88++ per adult (Sunday to Thursday) with free-flow soft drinks & beer $108++ per adult (Friday and Saturday) with free-flow soft drinks, Makgeolli, Soju, beer, wines & spirits $25++ per child (aged 6 - 12 years) Children aged 5 years and below dine free with every paying adult.  
Olive Tree at InterContinental Singapore
80 Middle Road,  Singapore 188966
Phone: +65 6825 1008
Email: intercontinental.dining@ihg.com
PS: Thank you, InterContinental Singapore, for the kind hospitality.