Ramen Kagetsu Arashi at The Cathay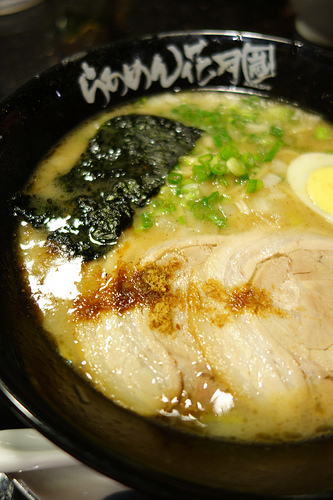 Ramen Kagetsu Arashi (also known as Kagetsu Ramen) recently added two new dishes, Ginjiro Ramen and Itameshi Dry Curry Rice, to its menu. I was invited to sample them last Friday evening.
Ginjiro Ramen @ S$13.90
The Ginjiro Ramen is apparently a very popular dish at Ramen Kagetsu Arashi's Japanese and Taiwanese outlets. The Tonkotsu-based Broth (made by simmering pork bones over long hours to extract the natural sweetness) is fortified with the addition of umami-rich ingredients, Dried Bonito (Katsuoboshi) and Kelp (Kombu). Essentially a marriage of two very tasty Japanese broths, Tonkotsu and Dashi (made with Katsuoboshi and Kombu), I expected the ramen broth to be very flavourful. It was less salty than the usual traditional Japanese Ramen broths, so it's well-suited for those who always complained that Japanese Ramen broths are way too salty. The dominant flavour came from the Katsuoboshi. I could barely taste the collagen-rich Tonkotsu broth, which was a pity. I suppose this would work well for those who always wished their Tonkotsu broth was less robust and oily. The Char Siew was tender but the half-boiled egg that was added wasn't a seasoned lava egg (Ajitama), an ingredient that I love. Ajitama is available for die hard fans as an additional topping at $1.50.  The noodles were a little too soft for my liking. I guess it was because the kitchen was slammed with a massive influx of orders all at the same time which resulted in a delay in serving the noodles.
Recommended Add-Ons at Ramen Kagetsu Arashi
An interesting part of the dining experience at Ramen Kagetsu Arashi lies in the suggested condiments (or add-ons as they're referred to at the shop). The ground Malaysian Black Pepper by Fauchon added a warm touch of spice to the soup. The condiment I liked best was Kagetsu's secret recipe soy sauce, which I thought tasted very much like premium first draw soy sauce. The soy sauce added a richer flavour to the broth and I would highly recommend adding it to your bowl. The seasoned chives were great on their own and also as a condiment for the ramen, however I must say that adding crushed raw garlic adds a special zing to the soup. I love garlic so I added 2 cloves.
Seasoned Chives
Kagetsu's special in-house seasoned chives were awesomely spicy and reminded me of Kimchi albeit without the fermented flavour. I loved it but this is definitely not recommended for those who cannot take the heat from chilli.
Itameshi Dry Curry Rice @ S$12.90
The Itameshi Dry Curry Rice reminded me of Pepper Lunch because of the hot plate and slab of butter on top of  the rice. Well-cooked grains of rice topped with sliced sausages, a slab of butter and finely sliced scallions sat in a shallow bath of beaten raw egg. The staff poured the sauce over the rice before mixing it all up with the raw egg, a little like mixing the ingredients in Korean Dolsot Bibimbap. This dish was surprisingly pretty good as the lightly seared beaten egg and rice added a smoky touch to the dish. Though there were hints of curry in the rice, it was certainly not spicy and I think even kids could eat this without any issues with the heat.
Arashi Genkotsu Barikara Ramen @ S$14.90
I sampled a small portion of Arashi Genkotsu Barikara Ramen, a spicier version of Ramen Kagetsu's best selling flavour. We were warned that it was very spicy and not for the faint of heart. A Sichuan food lover, I took on the challenge and loved the rich broth in this dish alot more than the one in the Ginjiro Ramen. Though I'm not a huge fan of fermented bamboo shoots (Menma), I loved the heat from the specially selected Japanese chilli peppers. Worth a try if you can handle chillies.
Ramen Kagetsu Arashi is located in various malls in Singapore
1) The Cathay
2 Handy Road, #B1-01 to 03, The Cathay,  Singapore 229233
Phone: +65 6736 3055
Operating Hours:
11.30 am to 10 pm (daily)  
2) The Star Vista
1 Vista Exchange Green, #01-41 Singapore 138617
Phone: +65 6339 0335
Operating Hours: 
Monday to Thursday: 11.30 am to 10 pm Friday to Sunday & Eve of Public Holidays: 11.30 am to 11 pm  
3) Tampines 1
10 Tampines Central 1, #02-09/10 Tampines 1,  Singapore 539536
Phone: +65 6854 0335
Operating Hours:
11.30 am to 10 pm
PS: Thank you, Ramen Kagetsu Arashi and Brand Cellar, for the kind hospitality.
*************************************************************************
I want to share the love and give away a S$10 Ramen Kagetsu Arashi voucher!
To win, tell me which is your favourite ramen flavour  by commenting on my

blog

, on 

Instagram

, my 

Facebook wall

 or by 

email

.
Entries close at 11.59 pm on 2 March 2014.
1 winner will be picked and the voucher will be sent via snail mail.
Only for Singapore residents.
This dine-in voucher is valid at all Ramen Kagetsu Arashi outlets in Singapore till 19 Feb 2015!