RWS Food Affair: 6 Celebrity Chefs, 9 Days of Indulgence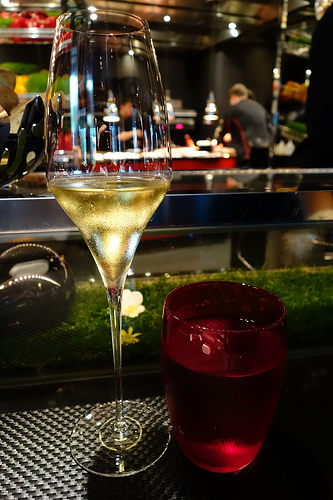 Over 9 days, 6 celebrity chefs will converge at Resorts World Sentosa (RWS) for the inaugural RWS Food Affair. From 14 to 22 September, Chef Joël Robuchon, Chef Sam Leong of Forest, Chef Li Kwok Kwong of Feng Shui Inn, Chef Douglas Tay of Osia, Chef Cat Cora of Ocean Restaurant and Executive Pastry Chef Kenny Kong  will be serving exclusive menus that were specially created for this promotion. The highlight of the event is a luxurious six-course dinner featuring the cuisine of all 6 celebrity chefs at the world's largest aquarium, the S.E.A. Aquarium on 18 September.
I was invited to a media preview dubbed the RWS Food Safari. We were served a 5-course set menu featuring a few of the dishes that will be served during RWS Food Affair at four of the participating restaurants. Our trail commenced at L'Atelier de Joël Robuchon where we settled down for a quick glass of chilled champagne before our whirlwind tour of food and establishments took off.
L'Atelier de Joël Robuchon
While the kitchen was busy putting the final touches to our food, I was enjoying the view of the open concept kitchen. The rich, beautiful colours of fresh produce complemented the red and black decor of the restaurant.
Amuse Bouche - L'Atelier de Joël Robuchon
Foie Gras Custard with Red Porto Wine Reduction & Parmesan Foam
I love the term, Amuse Bouche! It essentially refers to a complimentary appetizer that's called a "Palate Pleaser". I sometimes cheekily call it a "Palate Teaser". The Foie Gras Custard Amuse Bouche is legendary. Even though I've been reducing my foie gras intake in recent years, I couldn't help but clean out the custard in my demitasse. The rich and creamy foie gras custard was perfectly complemented by the robust sweetness of the port wine reduction. The combination was given a light savoury touch by the Parmesan foam that served to enhance their flavour. It was *ahem* (for the lack of a better expression) absolutely orgasmic! Definitely a Must-Try! Ooh, I hope they'll serve this item on my next visit! :)
Le Crabe - L'Atelier de Joël Robuchon
Seasonal crab meat tossed in a sweet & sour vinaigrette, thin layers of  blanched Daikon & spiced up with Piment d'Espelette
The first item on our Food Safari menu is an appetizer called "Le Crabe", a refreshing salad of chilled Alaskan King Crab meat tossed in sweet and sour vinaigrette and served between 2 opaque, thin layers of blanched Daikon. This item is part of the special six-course RWS Food Affair set dinner menu priced at S$180++ per diner.
I love Piment d'Espelette, so I enjoyed adding bits of pepper to the crab for a touch of spice. Although it didn't send my pulse racing like the Foie Gras Custard, this appetizer was delicious and worth a try.
We had a tight schedule to keep and had to get moving to Osia, the restaurant across the walkway. I was intrigued by the antique gold natural salt flakes at the table.
Osia's Signature Foie Gras
Polenta Crumbed  Foie Gras on Daikon with Beetroot, Rhubarb & Riberry Compote
The next item was Osia's Signature pan-fried foie gras that's available on their regular A La Carte menu instead of the RWS Food Affair menu. The soft slab of foie gras was encased within a dark, golden brown polenta crust that added a crunch, like how the caramelized sugar crust on a Crème Brûlée adds texture to the dish. Interestingly the hot appetizer dish here also featured Daikon, could this be a trend? Although the tart compote helped to cut through the grease of the foie gras, making the dish seem a little less heavy, I was starting to feel pretty full.
Steamed New Zealand Cod Fish with Yuzu Mushroom Sauce - Forest 森
Next, we had to hop onto a buggy that took us to Forest at Equatorial Hotel for our third course. We sampled the Steamed New Zealand Cod Fish with Yuzu Mushroom Sauce. I love all the ingredients in this dish! The cod was steamed perfectly, resulting in moist flakes of fish coming off the chunk when I prodded with my fork. The light sauce complemented the delicate sweetness of the fish perfectly. I loved how the use of Yuzu in this dish added a citrusy note to the umami-rich flavour of  the diced mushrooms. Part of the special six-course RWS Food Affair set dinner menu priced at S$148++ per person; this dish will be taught by Chef Sam Leong during a 16-seater Master class that's priced at S$160 nett per person (inclusive of a four-course set lunch).
Kurobuta Pork Belly & Fried Octopus, Sauerkraut Puree, Cabbage Roll & Mustard
Ocean Restaurant by Cat Cora
We were behind schedule and had to walk over in a hurry throught the carpark to Ocean Restaurant by Cat Cora, our final stop. I loved the Kurobuta Pork Belly as it had a crisp crackling and tender, moist meat. The pork belly had been cooked sous vide for over 12 hours before being seared to a crispy finish. The spoonful of brown crumbs which comprised with blended rice and bread crumbs added a smoky flavour to the dish. I felt the pork belly could have done with a little more brining for added flavour and the crackling would be even better if it was more crisp. Though it had been cooked for over 2 hours, the octopus was still pretty tough. Perhaps the chunks were too large? This item is part of the special five-course RWS Food Affair set dinner menu priced at S$158++ per person.
Yuzu Mango Cremeux, Gula Melaka Streusel, Milky Lemongrass Sorbet & Chocolate
Time for dessert! I loved the refreshing flavour of the Yuzu Mango Cremeux and Milky Lemongrass Sorbet but what really put a big grin on my face was the pop rocks that encrusted the leaf and lay hidden within the orb. I didn't like the Gula Melaka Streusel as I prefer mine to be more buttery, plus it didn't help that I could barely discern the characteristic smoky flavour of Palm Sugar (Gula Melaka) in this dish. This item will be served during the RWS Celebrity Chefs Dinner on 18 Sep, the highlight of RWS Food Affair. Held at Ocean Gallery @ S.E.A. Aquarium, the six-course dinner is priced at S$288++ per person (inclusive of free flow of Ayala Brut Majeur NV Champagne for pre-dinner cocktails, free flow of Penfolds Bin 2 Shariaz Mouverdre  and Penfolds Koonunga Hill Autumn Riesling for dinner). Limited to 250 seats only so hurry to book your seat!
Cocoa Nibs & Almond Lollipop.
Served with hot chocolate infused with Earl Grey & topped with Lime Espuma
Executive Pastry Chef Kenny Kong was really intent on making sure we were well fed and served us an interesting lollipop made with cocoa nibs (roasted cocoa beans that had been separated from their husks and broken into little bits) and almonds. Feeling like a kid in a candy store, I nibbled excitedly onto the lolly. It had a lovely caramelised sugar flavour with toasty tones from the roasted cocoa beans and almonds. Though the milk chocolate based Hot Chocolate drink was just a little too sweet for me, the sweetness was somewhat mitigated by the delicate Bergamot-infused flavour of Earl Grey Tea and the slightly citrusy touch from the lime foam that topped the drink. This is a Must-Try although I'm not sure if this will be served during RWS Food Affair. I hope Chef Kenny comes up with a Dark Chocolate version of the Hot Chocolate drink!
RWS Food Affair will be held at various participating RWS restaurants from 14-22 September 2013, check the website for details: http://www.rwsentosa.com/language/en-US/rwsfoodaffair
PS: Thank you Resorts World Sentosa and Weber Shandwick for the hospitality.