LaBrezza at St. Regis has a New Chef & Menu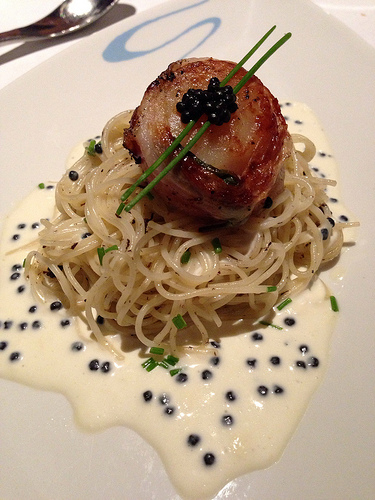 LaBrezza at St. Regis Singapore has a new chef helming the kitchen. Bringing more than 15 years of culinary expertise from various regions in Italy with him, Chef de Cuisine Stefano Arrigoni has created a new menu for the pool-side Fine Trattoria-Style Italian restaurant. I was thrilled to be invited to taste some of the items on the new menu.
Antipasti - Pettine @ S$32
Pan-seared Hokkaido Scallops wrapped in Pancetta with Truffled Angel Hair Pasta & Caviar Sauce (photo shows a tasting portion)
Following an Amuse Bouche of Couscous drizzled with Extra Virgin Olive Oil and Reduced Aged Balsamic Vinegar, was a portion of Pan-seared Hokkaido Scallop wrapped with Pancetta on a bed of Truffled Angel Hair Pasta and Caviar Sauce. The succulently sweet scallop had a delicate smoky flavour from the caramelization on the seared edges. It was a perfect counterbalance to the savoury flavour of the crisp strip of seared Pancetta and the flavour of the sea contained in the black caviar pearls that sat atop the scallop. The Angel Hair Pasta (one of my favourite types of pasta) was al dente and well-tossed with black truffle paste and truffle oil. The truffle paste reminded me of Tetsuya's Black Truffle Salsa, a staple in my kitchen. This was my favourite dish for the evening and definitely a Must-Try!
Zuppa - Pomodoro @ S$18
Tuscany-style Tomato Soup with King Crab, Vincotto Wine Sauce & Basil Foam (photo shows the a la carte portion)
That was followed by a warm and richly-flavoured Tuscan-style Tomato Soup, which was served with a refreshing portion of shredded King Crab flesh tossed with diced fresh tomatoes and Vincotto Wine Sauce.
Tasting portion: Tuscany-style Tomato Soup
A hearty soup that warmed my hungry belly on a cool Friday evening after a busy work week. This is worth a try if you love tangy tomato soup.
Trio of Carbs: 2 Pastas & a Risotto (tasting portion)
 Next, we were served tasting portions of 3 carb dishes.
Risotto @ S$38
Barolo Wine & Pecorino Risotto with Sous Vide Oxtail & Sweet Saba Reduction (Photo shows the a la carte portion)
The Risotto was al dente and fairly tasty even though no stock was used in its preparation. It drew its flavour from the Barolo Wine, Pecorino Cheese and Sweet Saba Reduction (a syrup made from freshly squeezed grape juice) that it was cooked with. The Sous Vide Oxtail was tender and hearty tasting. This is worth a try if you love Risotto and Oxtail.
Tagliolini @ S$ 48
(a la carte portion shown in photo) Thin Pasta with Boston Lobster, Sun-Dried Tomato, Italian Basil with White Wine & Tomato Sauce
The Tagliolini dish was delicious with the hearty flavour of tomatoes and basil. Although I generally prefer my Pasta dishes with Aglio Olio or Cream-based sauces, this dish was satisfying as my serving had quite a few succulent tomatoes.
Pappardelle @ S$ 40
(photo shows the a la carte portion) Homemade Whole Grain Pappardelle with Ragout of slow cooked Venison & Pecorino
The Pappardelle dish was my least favourite of the trio as there was a slightly gamey flavour. The whole grain pappardelle had a firm texture and I wish I'd taken more Pecorino Cheese to jazz up my portion a little.
Agnello @ S$ 48
(photo shows the a la carte portion) Slow-Cooked Australian Lamb Rack, crusted with Kalamata Olives, Vegetable Caponata, Potatoes poached in Milk & Smoked Pork, Chianti-mustard & Vincotto Sauce
I'm so glad there are quite a few of us to share the food because I was starting to feel pretty full. I love Kalamata Olives so I enjoyed the savoury crust on the juicy lamb. Worth a try if you love lamb and olives.
Tartufo Pizza @ S$ 39
Mozzarella, Italian Sausage & Shaved Black Truffle
Next, we had some pizza. I was so full by this time that I only took a slice of the Tartufo Pizza. The Italian Sausage in this pizza was Cotechino, a fatty sausage that reminds me of Luncheon Meat. Topped with black truffle shavings, this pizza had a lovely earthy flavour although I wondered if it might  work better with Umbrian sausages instead as they have a less oily mouthfeel relative to Cotechino sausages.
Latte
What better way to end the meal than with a cup of steaming hot Latte? St. Regis Singapore serves custom-blended gourmet coffee. A nice pick-me-up after a heavy meal.
LaBrezza
The St. Regis Singapore,  Level 2, 29 Tanglin Road, Singapore 247911.
Phone: +65 6506-6884
Email: labrezza@stregis.com  
Operating Hours:
Lunch: 12pm to 3pm (Monday to Friday) Dinner: 6pm to 10pm (Monday to Sunday)
Prosecco Brunch: 12pm to 3pm (Saturday & Sunday)
* A la carte menu available from 12pm to 10pm daily.    PS: Thank you, St. Regis Singapore, for the hospitality.