Post-Event: Palate's Inaugural Wine Dinner at The Moluccas Room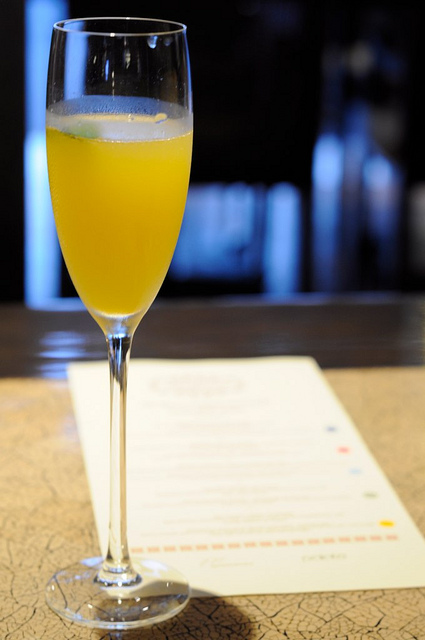 Last week, Palate, a dining programme offering members discounts at a wide range of dining establishments in Singapore, kicked off their inaugural monthly member's event with a wine-paired dinner at The Moluccas Room.
I was invited to the event as a member of the media. As I have eaten at The Moluccas Room before and enjoyed the food, I was curious to try the menu that had been created exclusively for the event. Guests were treated to a complimentary welcome cocktail of Champagne and Passionfruit Puree whilst soaking in the view of the beautiful Singapore skyline.
The specially devised five-course "Flavours of Spring" menu showcases spring-themed Indonesian cuisine paired with wines that have been selected to compliment the food.
Dinner commenced with an amuse bouche of pickled vegetables that tasted like Nonya achar, comprising chopped carrots, pineapple and cucumbers marinated in a tangy and sweet sauce.
Kerang Rendang Jeruk Bali
Grilled Hokkaido Scallop rendang accompanied with refreshing spiced pomelo salad  
This is the first time I'm having scallop with rendang sauce. The rich coconut flavour of the delicately spicy (ie. not of the tongue-burning variety) rendang complimented the fresh flavour of the grilled scallop, which I wished was just a little more grilled so that the caramelized sugars will add a smoky taste to the dish.
The interior of the scallop was translucent. There was no pomelo salad on the plate. The scallop was garnished with watercress salad instead, which provided a refreshing crunch to the dish.
From left: 2011 Shaw & Smith Sauvignon Blanc - Adelaide Hills, Australia & 2007 Henschke Julius Riesling - Eden Valley, Australia  
The scallop was paired with a glass of 2007 Henschke Julius Riesling, which I didn't enjoy because it had a strong astringent quality that overpowered the delicate flavour of the dish. Incidentally, I am not much of a wine drinker so please bear with my layman's perspective of the wines I had that night.
Cocktail Salada Udang
Prawn Cocktail in rich Indonesian Dutch egg dressing topped with refreshing cucumber and coconut shreds  
I preferred the fruity 2011 Shaw & Smith Sauvignon Blanc which was paired with the next dish, Cocktail Salada Udang. The lightly-poached, succulently fresh prawn was just a tad undercooked but was sweet and went very well with the pale Indonesian Dutch egg dressing and crunchy cucumber and coconut shreds. I thought the dressing tasted like a lighter version of Hollandaise Sauce.
Daging Kambing Lumpia Goreng Belado
Balinese-spiced braised lamb spring roll with traditional Indonesian pickle and Belado mayonnaise  
The third course was a spring roll stuffed with minced lamb. This has to be eaten hot to avoid losing the crispiness of the spring roll. The lamb was juicy but the Balinese spices were barely discernible with the exception of black peppercorns. I loved the rich and slightly spicy flavour of the Belado (Indonesian chili paste) mayonnaise.
First glass from left:
2010 Hugel et Fils Classic Gewurztraminer "Hugel" - Alsace, France
I had pretty high hopes for the Gewurztraminer as I like wines from the Alsace region, after gaining a slightly deeper appreciation during a visit to a vineyard in Alsace many years ago. However, I was disappointed as it tasted quite flat and not as sweet as I expected.
Salmon Garing Colo Colo
Crispy pan seared Salmon colo-colo with sweetened fermented soya bean rocket salad  
The pan seared salmon was cooked perfectly with a deliciously crispy skin. The spicy and tangy colo-colo sauce helped to cut the fatty flavour of the salmon so even though I prefer salmon sashimi to cooked salmon on any given day, I enjoyed this  combination. The sweetened fermented soya beans (aka tau cheo in Singapore) was an interesting touch as it helped to counter part of the characteristically peppery flavour of the rocket (aka arugula) salad. This was paired with a glass of 2009 Nautilus Estate Pinot Noir - Marlborough, New Zealand. I generally prefer Old World reds, so I didn't enjoy this wine as I felt that it had too much tannins and was very bitter.
Moluccas Luwak Istimewa
Gula Melaka macaroon with coconut cream, fresh strawberries and Luwak coffee ice cream  
Dinner ended on a sweet note with a Gula Melaka (palm sugar) macaroon shell perched atop a scoop of Kopi Luwak (Civet cat...erm...processed coffee) ice cream and fresh chunks of strawberries with coconut cream. I like The Moluccas Room's Gula Melaka macaroons. This was an upsized version, which was just as delicious as it has the smoky, caramelized flavour that I love without being cloyingly sweet. The combination of tart strawberries and rich coconut cream was awesome. Having tried Kopi Luwak (the world's most expensive coffee) while visiting Bali some years back, I felt that the coffee was a little over-rated as I didn't like its bitterness. Besides, it was frightfully expensive. The ice cream that had been made with Kopi Luwak was pleasant, probably due to the addition of milk and sugar. This dessert is worth a try if it appears on the restaurant's menu.
At the end of the dinner, a Palate member was picked in a lucky draw. The prize? A bespoke dinner for 10 prepared by The Moluccas Room's Executive Chef Alicia Tivey. Here she is mingling with guests and fielding questions from the media. Trained in classical French and traditional Indonesian cooking techniques, this unassuming chef has amassed 29 years of culinary experience. This included working as sous chef to Chef Tetsuya Wakuda in Sydney. Her aim is to modernize Indonesian food through  combining French cooking techniques, premium ingredients and Indonesian spices to produce a lighter interpretation of a cuisine that has long been thought to be too heavy for regular consumption. I highly recommend the Confit Sakura Ayam Tuturaga from the a la carte menu.
To find out more about Palate's exclusive dining programme and other member's only benefits, visit: www.palate.sg
Thank you, Palate and Ate Integrated Communications for the invitation to this event.
The Moluccas Room
The Shoppes at Marina Bay Sands 2 Bayfront Avenue L1-81 Singapore 018972
Tel: +65 6688-7367
Operating Hours:
Daily from 11.30 am to 3 pm & 6 pm to 10.30 pm