Traditional Haig Road Putu Piring - Gastronomic Ruminations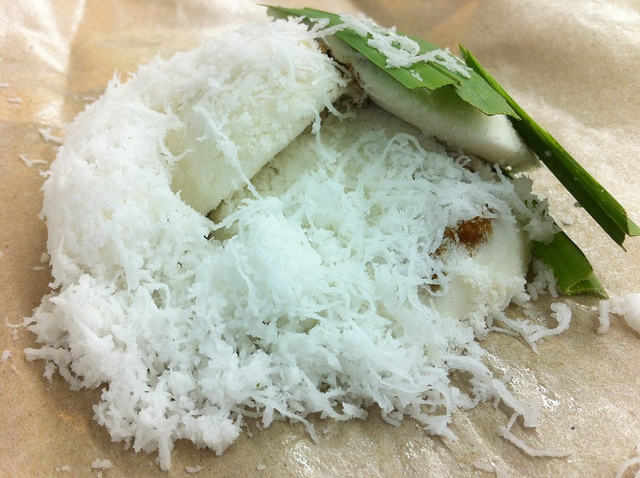 My cycling accident in February has made it a little more inconvenient to travel.  Unable to travel to Malacca to get a Putu Piring fix, I had to turn to the next best alternative that's alot closer to home, the famous Haig Road Putu Piring. This stall has been selling my favourite Putu Piring since my childhood as my family has always been residents in the Eastern part of Singapore and it was close to the schools that I attended.  The stall has shifted from its Haig Road address to a new location along Onan Road.
Putu Piring has always been harder to find than the smaller and less fluffy cousin, Kueh Tutu, which usually comes filled with grated coconut that has been cooked with Gula Melaka (palm sugar) or ground peanuts that have been roasted with sugar. Kueh Tutu used to be found very easily in night markets and food halls but of late, I haven't really seen that many Kueh Tutu stalls around. Not that I mind it all that much as the harder and drier rice cake  never used to appeal to me but served as a stopgap measure whenever I couldn't get any Putu Piring.
Putu Piring @ S$2 for 5 pieces
Significantly smaller than my current, albeit far flung favourite Putu Piring in Malacca, this comes the closest in flavour as they use Gula Melaka from Malacca (a Malaysian state from which Gula Melaka hails).
One of the foodstuffs that I love to stock up on whenever I visit Malacca is Gula Melaka as they are often (depending on who you buy from) significantly more fragrant and have a stronger caramelized flavour than the ones available in Singapore, which are excessively sweet and not as robust in flavour.
Putu Piring is served with torn pandan leaves (to release the fragrance) and grated fresh coconut that had been lightly-salted to help preserve and also to enhance the flavour of the coconut. The smoky, caramelized taste of the molten gula melaka complemented the delicate flavour of the fluffy, warm rice cakes and the savoury nuttiness of the lightly-salted grated coconut. This is a MUST-TRY!
If you are buying to take away, you may request for the grated coconut to be packed separately. This might be a good precautionary measure as grated fresh coconut is very susceptible to heat and can cause stomach upsets when off.
Traditional Haig Road Putu Piring
1 Onan Road, Located within Mr Teh Tarik on the ground floor of Hotel 81 Singapore 424780
Telephone: +65 9688-3067
(please do not send SMSes as they will not be entertained)
Operating Hours: Daily from 11 am to 10 pm