be disloyal: Rewarding Infidelity - Gastronomic Ruminations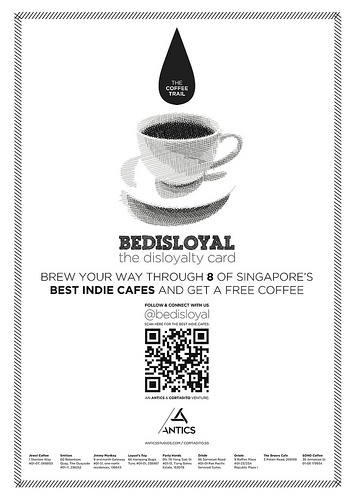 (bedisloyal)
When I saw this sign off on a SMS, I thought Erik Posthuma had a strange sense of humour and was sharing a little too much information about his sleeping habits. I thought he meant his bed was loyal (bedisloyal = bed is loyal). I realised when he gave me the poster below, that it was the tagline for the Disloyalty Card, the subject of our discussion.
Be Disloyal. The disloyalty card is a project by Erik of Antics Studios and Luke Norman of Cortadito.sg to merge their love for coffee and for growing small businesses started by other coffee lovers. The mechanics of the Disloyalty Card programme is to encourage consumers to try out 8 different independent cafes and finally redeem a free cup of coffee from the first establishment that they visited (ie. the one where they picked the card up from).
The Disloyalty Card programme is anomalous to marketing conventions whereby consumers are encouraged to keep their spending with one establishment eg. chain stores with loyalty cards.
So, why should indie cafes participate in a programme that drives traffic to their competitors?
The reason is simple and almost altruistic. In an increasingly competitive world dominated by chain stores, owners of independent shops have a tough time eking out a livelihood out of a business that was born of passion or even tradition. Over the years, increasing numbers of mom-and-pop-shops whether for groceries, hardware, household goods etc have been replaced by large chains. Whenever a conversation is started about where to get coffee, the first few names thrown out are invariably chain stores. Discerning coffee lovers often lament about the difficulty in finding decent and honest coffee that have been brewed by Baristas who are truly passionate about their craft as opposed to those who simply go through the motions behind the espresso machine.
The Disloyalty Card is a coffee community effort to create awareness of the specialty coffee scene in Singapore. It is akin to a David vs Goliath fight, whereby the small cafes team up together in a collective effort to create a friendly business environment for themselves in a world dominated by chains such as Starbucks, Coffee Bean & Tea Leaf, etc. Consider this a Hit List for the best indie cafes in Singapore.
The movement was started in England by 2009 World Barista Champion, Gwilym Davies. It has since been implemented in Seattle and Toronto.
So, if you truly love your cuppa Joe and appreciate the passion behind your brew, do check out the 8 indie cafes soon to pick up your own Disloyalty Card as the pilot phase only has 800 cards available and the cards are valid till the end of 2011.
Scan the QR code for the location of all the participating cafes.
1. The Broers Cafe
2. Forty Hands
3. Jewel Coffee
4. Jimmy Monkey Cafe & Bar
5. Loysel's Toy
6. Oriole Cafe & Bar / Oriole Espresso & Brew Bar
7. Smitten Coffee and Tea Bar
8. SOHO Coffee