Chef's Surprise Menu - Mozaic @ Ubud, Bali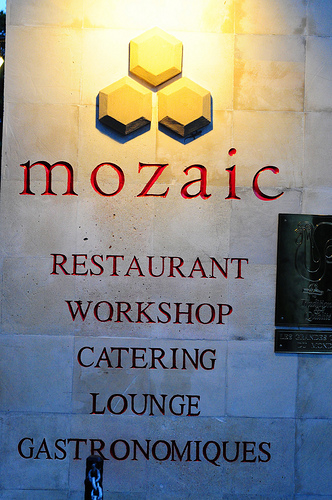 Mozaic
prides itself as being one of only 2 restaurants in Southeast Asia to have been selected by
Traditions & Qualité
as one of
Les Grandes Tables du Monde
(Great Tables of the World). The wine list is awarded year after year by Wine Spectator. With so many accolades, this restaurant has established a reputation in Bali as "The Fine Dining Establishment" to check out.
Reservations are highly recommended. They practise a policy of reconfirming your reservation on the day itself (they'll either call you or you have to call them by 4pm Balinese time to reconfirm your reservation for dinner). If you fail to reconfirm your reservation, your table is given away. I have visited Bali 9 times in the past 8 years and dined at Mozaic 3 times. Prior to this trip, my last visit to Mozaic was in October 2006. They were operating a 2-seating arrangement back then which didn't seem to be the case this time around. February is low season in Bali.
The restaurant is located in Ubud so if I happened to be staying at Seminyak for a short trip, I would usually give Ubud (about an hour and a half's drive away) a miss. The ambience is romantic but still suitable for meals with friends and family. The extremely dim lighting was a major challenge for our cameras and one had to look hard to discern the items on the plate.
Amuse Bouche: Gougère with Truffle Cream
While perusing the menu, the wait staff served us an Amuse Bouche (a bite-sized appetizer served compliments of the Chef that is meant to serve as a palate-pleaser) of
Gougère with Truffle Cream.
It was delicious! The cheese-flavoured choux pastry (choux pastry is a light pastry that is used to make items like profiteroles, eclairs and beignets) was airily light with a hint of cheese. When bitten into, the divinely fragrant truffle cream burst out of it coating the tongue with a cool but tasty richness. It served as an excellent prelude to the meal and tickled my taste buds with a yearning for more. Nibble & Scribble and I recalled the experience that we had with the Amuse Bouche created by 3-Michelin Star Chef Sergio Herman when he was in Singapore.
Menus (non-Vegetarian) Priced @ IDR550,000 (abt USD46)++ & IDR750,000 (abt USD63)++ Wine Pairing @ IDR550,000++ & IDR750,000++
The menus are reasonably priced by Singapore standards for a fine dining establishment but do take note though that prices are subject to 21% taxes and service charge.We decided to go for the Chef's Surprize Menu which promised to serve 6 courses of their newest creations using the finest, rarest and most precious seasonal ingredients. We were given the choice of having the same menu for all 3 of us or to have different menus.
Nibble & Scribble
and C wanted to try the Wine Pairing option so they opted for the same menu while I opted for a different menu.
Amuse Bouche: Oyster with Seaweed, Ponzu & Sake Dressing
We were served another Amuse Bouche of
Fresh Oyster with Seaweed, Ponzu & Sake Dressing
. It was a deliciously safe combination of
Ponzu
(Japanese citrus-based sauce) &
Sake
(Japanese Rice Wine) seasoning. The meal was starting to look promising despite the warning that our Indonesian friend had given us about lousy food being served at Mozaic in recent months.
Soy Bean Sprout Bread & Walnut and Apricot Bread
We were then served warm bread rolls and salted butter. I prefer unsalted butter so I requested for some, which the service staff swiftly obliged. I loved the Soy Bean Sprout Bread because of its unique flavour. I felt the Walnut & Apricot Bread was delicious in large part because walnuts are one of my (though I confess to having many) favourite ingredients.
Five Pepper Crusted Tuna with Yuzu Cream, Ponzu Jelly & Pear Salad
My Surprize Menu kicked off with a starter of
Five-Pepper Crusted Tuna with Yuzu Cream, Ponzu Jelly & Pear Salad
. Frankly, I was a little disappointed to see the crusted tuna arriving because pan-seared tuna is a dish that I feel has been done to death (like molten chocolate cake). Nibble & Scribble and C had a starter of
Japanese Wagyu Beef Tataki with Cèpes (aka Porcini Mushrooms), Horseradish Jelly & Parsley-Wasabi Coulis
which I thought was more interesting. You will have to wait for Nibble & Scribble's entry to read more about the other menu.Back to my plate of tuna, it was well-executed and the Yuzu Cream added a fragrantly rich dimension. The Ponzu Jelly was very mildly flavoured but I prefer Ponzu in its liquid form and used as a dip for dishes like Aji Tataki because its tartness whets the appetite and enhances the natural sweetness of the fish. Incidentally, Yuzu (a citrus) and Ponzu (a citrus-based sauce) are some of my favourite ingredients in
Japanese
cuisine.
Pan-Seared Seafood with Milk Jelly, Yoghurt, Toasted Spices & Curry Leaf Reduction
The meal started going downhill from here. The Pan-Seared Seafood comprised Deep-Fried Soft Shell Crab, Pan-Seared Scallops and Fish. The Soft Shell Crab was crispy on the outside and had a juicy core but the fish and scallops were way-overcooked. The scallops were so rubbery that chewing them felt like a chore. The milk jelly was bland and the curry leaf reduction was bearable as it helped to add moisture to the seafood that had gone dry from overcooking. The toasted spices was a strangely sweet yet slightly spicy mix of dried chilis and probably some Sichuan peppercorns and palm sugar. My dining companions thought it tasted weird too.Thankfully, the service staff asked us if we wanted to take a little break between courses. We gladly agreed as we need some time to digest and to get over the parts that we didn't like.
Slow Roasted Cinnamon Pork Belly on Ginger & Apple Purée with Smoked Foie Gras
The 3rd course was a Slow Roasted Cinnamon Pork Belly and Smoked Foie Gras. I love
Foie Gras
so I ate it first. It was well-prepared with a nicely browned surface that had a smoky flavour and a crispy texture that gave way to a soft and rich core.When I ate the Slow Roasted Cinnamon Pork Belly, I was instantly reminded of Chinese Tau Yew Bak (Pork Braised with Soy Sauce, Cinnamon, Star Anise, Sugar and Pepper). The flavour was good but the pork was excessively dry and stringy. The apple puree that was a tad too sweet for my taste did little to help the dish and I didn't like the combination though pork is often paired with apple. The apple jelly was quite nice but I was started to get tired of jelly. This is my 3rd dish and I've had jelly in every dish so far.
I hoped the pork skin would fare better as it looked crisp. I was disappointed to discover that not only did the roasted pork skin lack the "crackling" quality that is a mark of skill, it was hard and had a gummy texture. The bits of skin and fat stuck to the teeth! It was in short, awful! The only reason I can think of for this that the excess fat had not been rendered off but was absorbed by the skin during the roasting process resulting in an unpleasantly chewy and sticky mass.
Perhaps, they should spend some time with Ibu Oka (an establishment in Ubud that is famous for Roasted Suckling Pig) or with some Chinese/German chefs who are worth their weight in salt to learn the art of creating a crisp crackling.
Squab with Beetroot & Raspberry Coulis, Cardamom Jelly & Chocolate Ganache
Just when I thought the worst was over, I was greeted with the
"pièce de résistance"
of Squab with Beetroot & Raspberry Coulis and Chocolate Ganache.First of all, I noted that this is my 4th course and the 4th dish to have Jelly in it! Is this a "Surprize Menu" or a "Surprise Me with How Many Variations of Jelly You Can Make Menu"? Though I generally like jelly, this meal was beginning to make me allergic to the mere mention of "Jelly". It didn't help that this jelly was the most pungent of all due to the cardamom that had been used to flavour it. The server had mentioned that there was horseradish in the dish but it tasted more like cardamoms. I like cardamoms in Arabic Qahwa (Arabic Coffee with Green Cardamoms), Masala Chai (Indian Spiced Tea) or in food but cardamom in jelly was not a nice combination.
I didn't like the Chocolate Ganache that accompanied the dish as it was a little too tart for my taste and I didn't like how it went with the squab. I am aware that Charlie Trotter has made a dish with chocolate vinaigrette and smoked squab breast with much success but not having tasted his version, I cannot draw a comparison with the one before me. I can only say that it was not to my liking though to be fair to Mozaic, the squab on its own was succulent and adequately seasoned.
The clash of flavours on my plate was nothing compared to the clash that my 2 friends had. They had Lamb with Apple Jelly, Caramelized Apple, Toasted Spices (yes, the same weirdly sweet combo that I had) and Calvados Sauce which they totally hated.
Potato Purée
The squab was served with a side of Potato Purée. I love potatoes so I ate quite a bit of it.
Cheese Course - Fourme d'Ambert with Walnut & Fruit Pastilla & Truffle Honey Sauce
I was thrilled when the cheese course arrived. Fourme d'Ambert is one of my favourite types of blue cheese. It went well with the Truffle Honey Sauce and was my favourite course for the evening. The Walnut & Fruit Pastilla was excellent as it was not cloyingly sweet. We were told that the pastilla was prepared by their Dessert Chef, a Balinese lady. We sent our compliments via the professional and ever pleasant service staff.
Chocolate Trio: White Chocolate Pavé, Chocolate Mousse & Mandarin Chocolate Soufflé with Bitter Chocolate Sorbet
The dessert was excellent but I was already feeling very full. The Chocolate Mousse, Mandarin Chocolate Soufflé and Bitter Chocolate Sorbet were my preferred items on the platter as the White Chocolate Pavé was just a little too sweet for my liking.The wait staff asked us if we enjoyed our meal and we replied that the cheese and dessert courses were good. They looked concerned and asked if we enjoyed the other courses, we hesitated and admitted that we didn't really enjoy the rest of the meal. They looked really bothered and tried to ask us why, we simply told them that we were just disappointed with the rest of the dishes and that we've had much better elsewhere (which was exactly what we were feeling). They told us that they hoped our next experience would be better but between the 3 of us, none of us wanted to come back to Mozaic for a long, long while. Amongst my 3 visits, the first visit was still the best with the most recent visit being the absolute worst meal I've had in a fine dining restaurant for a long time.
Kudos to the service crew for their professionalism throughout the evening and concern with customer satisfaction. We had noticed a sizeable young Chef (not Chris Salans) swaggering around our dining area throughout most of the evening, checking in with the Caucasian clientele on their experience but left the Asian clients (which were in equal number to the Caucasians) to the care of the able wait staff. We figured that he either wasn't sure if the Asians (who happened to be about 50% of the diners in our area) could speak English or that he was afraid that we wouldn't think that the use of Asian spices was exotic enough to warrant the gushing reviews that he seemed to be enjoying from his Caucasian audience. Gone are the days when one could see Chef Chris Salans at work in the open kitchen and waving to his clientele. The food and dining experience had descended to the deepest levels of mediocrity only to be kept afloat by the well-trained service personnel. If only we had more service staff like that in Singapore.
We moved to the cosy lounge, where a sexy singer was crooning jazz classics, for tea (@ IDR16,000++) and Petits Fours. I have had enough food for the evening so I skipped Petits Fours and sipped on a cup of hot mint tea.Mozaic used to be the top on my list of recommended restaurants whenever friends ask me about where they should dine in Bali. Unfortunately, my latest dining experience at Mozaic has completely marred my impression of the restaurant and its food. It's a reasonably priced fine dining restaurant in comparison with many others in the region (though according to the Indonesians in Bali, it's one of the most expensive restaurants on the island) but I would rather save the money and pool it towards a much better dining experience elsewhere. If you've never been there, try it for the ambience and the service but keep your expectations low as far as the food is concerned.
Mozaic Jl. Raya Sanggingan,