"Treasures of The Sea " - Chinese New Year 新年 Degustation Menus @ Yan Ting 宴庭, St Regis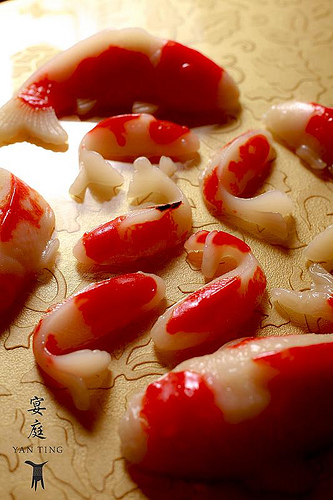 One of the plates of Salmon that we hijacked for a picture
Danny explained that we had been served the dorsal fin 鲍翅 of the shark and that it has a Cantonese name 裙翅 (pronounced "kuan chi"). This is reputedly the best type of fin because it is thick and has the best texture. It is so named because of its resemblance to the hem of a skirt (think flared Stepford wife-ish skirts). My piece of fin filled close to half the bowl and hid the pieces of crunchy bamboo pith and a shiitake mushroom that had been cut into the shape of a 50 cent coin.
The wine was pleasantly chilled and was not too cold. I loved the straw colour of the wine. The flavour of the wine was slightly tart and slightly sweet without being excessively so. It was refreshingly light with a hint of lychee. Though I don't know much about wine, I thought this wine was excellent!
Prosperity Oyster with Braised Sliced Abalone 福 满人间 Prosperity Fills The World
The next dish was a combination of Modern Cuisine with Traditional Chinese Cuisine.
I was getting pretty full but I couldn't resist the Fried Glutinous Rice with Wind-Dried Sausages生炒糯米饭.
One of my favourite Cantonese CNY dishes is Lap Mei Fan 腊味饭, which is essentially steamed rice topped with preserved meats like Wind-Dried Sausages 腊肠, Liver Sausages 膶肠 (Yun Cheong), Waxed Pork Belly 腊肉 (Lap Yok) and Waxed Duck 腊鸭 (Lap Ngap). This is usually cooked in a claypot and after we're done with the dish, the better restaurants will add stock to the burnt crust and boil it for a second course.
This was a variant of Lap Mei Fan but done with Wind-Dried Sausages 腊肠, Liver Sausages 膶肠 and prawns. It was excellent as the rice was not mushy or sticky but were firm grains that had been infused with the flavour of the preserved meats. I was impressed that the chef had managed to overcome the stickiness of the rice variety. Danny explained that stock was added regularly during the cooking process (like in making risotto) so that the rice grains remain firm and unbroken. I loved the Wind-Dried Sausages 腊肠 because they were very fragrant and tasty yet lean, which is unlike many of the sausages that we get in Singapore. I gave away the liver sausages because I generally do not like to eat internal organs except for Foie Gras. The Fried Glutinous Rice with Wind-Dried Sausages is a MUST TRY!
The Grouper is supposed to be a good quality fish and thus commands a high price. Perhaps this fish had rubbed against the corals too much resulting in the toughness of the flesh or is this a characteristic of the flesh that I fail to appreciate? In spite of the tough fish, the sauce was excellently seasoned and helped to lift this dish.
Danny explained that the red bean soup was made with Azuki Beans, Lily Bulbs, Lotus Seeds and spiced up with the flavour of a 30-year old dried Tangerine. I hate red bean but tried it anyway. I loved the Lily Bulbs and Lotus Seeds. The hint of tangerine peel helped to make this dish more bearable for me but this is not a dessert that I would come running back for. If you love red bean, do give this a try as I'm not the best person to ask about red bean desserts.
Thank you, St. Regis and flickr for the kind invitation. I was happy to have the company of fellow foodies and bloggers: Black Tie, White Lie, Camemberu, Dim Sum Dolly, Evan's Kitchen Ramblings, Milk Milk, Recent Runes and Timeless Facade at this dinner. It's always nice to dine with like-minded individuals.
Here's wishing everyone a prosperous and happy Lunar New Year.
*PS: The a la carte menu is also available during the CNY season.
Yan Ting The St Regis Hotel, Singapore Level 1U, 29 Tanglin Road, Singapore 247911. Telephone: +65 6506-6866 Email: diningexperience.singapore@stregis.com
Regular Operating Hours: Daily: 11.45 am to 3.00pm & 6.00pm to 11.00pm (last order @ 10.30pm)
Chinese New Year Eve (25 Jan 09) Operating Hours: Lunch: 11.45am to 2.30pm (Dim Sum Brunch only) Dinner: 1st sitting from 5.30pm to 7.30pm & 2nd sitting from 8pm to 10.30pm
Operating Hours during Chinese New Year (26 - 28 Jan 09): Lunch: 11:45 am to 2:30 pm Dinner: 6pm to 10:30 pm
Operating Hours on 7th Day of Chinese New Year (1 Feb 09) - Everyone's Birthday: Lunch: 11am to 4pm Dinner: 6pm to 11pm
Chinese New Year Goodies available for sale till 9 Feb 09